Our next meeting is November 12, 2016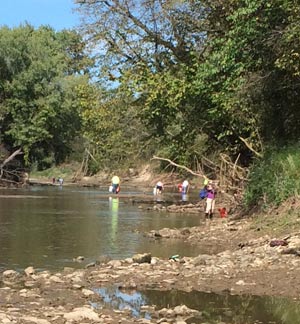 Elections were held at our June meeting. We still have a couple of positions open.
Vice President: The Vice President is the club's Program Chairman who provides speakers for our group.
Recording Secretary: Takes notes of our General Meetings and Board meetings.
If you are interested in filling one of these positions, let us know at info@chicagorocks.org.
Pictured: Club members on a field trip gathering geodes in Hamilton, Illinois at Geode Fest 2015.
Featured Specimen
— Vanadinite —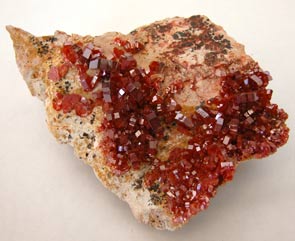 — from the Acif Mine, Mibladen, Morocco —
---
Newsletter Contributions
Our newsletter, The Pick And Dop Stick, is always looking for new submissions. If you have an article you would like to submit to the newsletter, a news item, pictures of one of your rockhound adventures, or another contribution, please send it to Rachele.Best@yahoo.com. We welcome all kinds of contributions!
---
Talk About Digging Things Up!
The club has recently come across old newsletters. We are in the process of digitizing them for posterity's sake. I thought it would be great to post the very first newsletter of our club here for all to see. This newsletter was originally mimeographed (remember the smell of mimeographed pages!) and later zeroxed. With some time and effort, it was scanned in and cleaned up. Click here to see what was going on in the club in October of 1946.
---
Geo Juniors are having thier own meetings!

Starting this September, the Geo Juniors are having their own meetings. The kids' meetings are from 6:15 pm to 7:15 pm on the same evenings as our regular meetings, the second Saturday of the month. These budding rockhounds will be learning all about what it take to become one. At the meetings, they will be working on badge work, helping to design and build their website, geojuniors.com, related crafts and a host of other things to help them become the newest generation of rockhounds.
---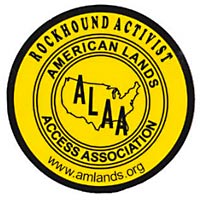 The Latest from the ALAA

The ALAA (American Lands Access Association) is the lobbying arm of the American Federation, working on behalf of rockhounds to keep public lands open and accessible to all, including the elderly and handicapped. Click here to read a few of the hot topics they are working on right now for rockhounds like us. For more information about who they are, a full list of what they are working on on, to become a member, or get involved, visit their website at: http://www.amlands.org/.
Who needs to band together to fight public land closures?
hikers, bikers, rafters, hunters, rock hounds, fishermen/women, equestrians, campers, prospectors, miners, boaters, dirt bikes, rock crawlers, loggers, kayakers, astronomers, bird watchers, snowmobilers, cross-country skiers, rock climbers, marksmen/women, 4x4s, nature photographers, jeep racers, mushroom collectors, long-range shooters, ranchers/grazers, rural communities
Utah Pushing to Remove Police Powers from BLM, Forest Service
By Pete Kasperowicz
Senior Editor, Washington Examiner (March 22, 2016)
Posted: 6/1/16
Utah's four House Republicans introduced a bill that would strip the Bureau of Land Management and U.S. Forest Service of their power to police federal lands, and give that power over to local cops. Rep. Jason Chaffetz and his three GOP colleagues from Utah introduced the Local Enforcement for Local Lands Act. The lawmakers say the growth of policing authority in both agencies has distracted them from their main mission of managing federal land, and has created conflicts with local authorities. They also say federal agents are not as trusted as local police, and should be removed. "Federal agencies do not enjoy the same level of trust and respect as local law enforcement that are deeply rooted in local communities," Chaffetz and other lawmakers said. "This legislation will help deescalate conflicts between law enforcement and local residents while improving transparency and accountability." "The BLM and U.S. Forest Service will be able to focus on their core missions without the distraction of police functions. This is a win all around," they added. A letter the Utah Sheriffs' Association sent to Chaffetz shows that federal police agents and their local counterparts are butting heads, and that local police believe the feds are intruding on local authority.
(From the Jan.-Mar., 2016, ALAA Newsletter)
---
Check out our Calendar of Events for more great rockhound events!