Our next meeting is February 10, 2018
Come celebrate our 72nd Birthday!!
Join us for cake & coffee while we celebrate our 72nd year. In case you are a little too young to remember the club's start, let me fill in the details. Chicago Rocks and Minerals Society (CRMS) was founded in 1946. The charter members were all in a lapidary
class in a Chicago Park District field house. They discovered they enjoyed
each other's company and began sharing information about various
collecting locations and techniques. This led them to a decision to
form a club that would provide them a chance to give lectures
about their specialties and have guests give talks about the
hobby they enjoyed. Here it is 68 years later and the club
is still going strong.
Our Speaker for February is
NASA Solar System Ambassador, Joel Knapper!
he's going to fill us in on "What's New at NASA?"
Look forward to an out of this world talk in February as NASA Solar System Ambassador Joel Knapper brings us up to speed on upcoming NASA missions, including our return to the Moon. A dedicated and active NASA Solar System Ambassador, Joel Knapper has been hooked on NASA and space exploration since the seventh grade. Joel earned a Bachelor's of Science degree in English Education from Southern Illinois University in Carbondale. Through the years, Joel has never lost his interest in the space program, and continues to learn more each day. Joel is an active member and officer of the local amateur astronomy group, the Kankakee Area Stargazers, where he presents monthly updates on NASA programs. He also hosts many other events in the Chicago and Kankakee area. Joel, his wife Dawn and his three children live in Bourbonnais, IL.
---
We Are Getting Ready For Our
69th Annual Silent Auction
Join us on Saturday, March 10, 2015 from 6PM to 9 PM
for an evening of fun, food and great deals.
Click here for the latest information on our 69th annual auction.
Club members are to start filling out their forms
for the auction and bring them to our next meeting.



Photos by: Rod Piechowski
Featured Specimen
— Desert Rose —
— Barite Crystal —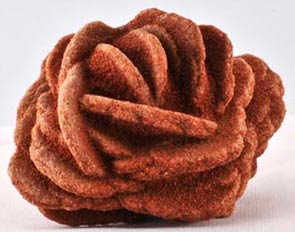 — from Oklahoma —
---
Newsletter Contributions
Our newsletter, The Pick And Dop Stick, is always looking for new submissions. If you have an article you would like to submit to the newsletter, a news item, pictures of one of your rockhound adventures, or another contribution, please send it to Rachele.Best@yahoo.com. We welcome all kinds of contributions!
---
Talk About Digging Things Up!
The club has recently come across old newsletters. We are in the process of digitizing them for posterity's sake. I thought it would be great to post the very first newsletter of our club here for all to see. This newsletter was originally mimeographed (remember the smell of mimeographed pages!) and later zeroxed. With some time and effort, it was scanned in and cleaned up. Click here to see what was going on in the club in October of 1946.
---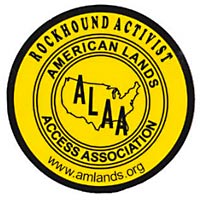 The Latest from the ALAA

The ALAA (American Lands Access Association) is the lobbying arm of the American Federation, working on behalf of rockhounds to keep public lands open and accessible to all, including the elderly and handicapped. Click here to read a few of the hot topics they are working on right now for rockhounds like us. For more information about who they are, a full list of what they are working on on, to become a member, or get involved, visit their website at: http://www.amlands.org/.
---
Did you miss our February 2017 meeting?

At our February 2017 meeting, our very own geologist, Ben Chorn, talked to us about Montana Agates. If you missed the meeting, like so many others who decided the warmth of Arizona and the Tucson Show were calling, you are in luck! Ben taped his presentation just for you. See it here or on YouTube. He has also inspired me to add a new page to the website under "References" called "Video Presentations". Get the popcorn ready & enjoy the show!!
---
Geo Juniors are having thier own meetings!

The Geo Juniors are having their own meetings. The kids' meetings are from 6:15 pm to 7:15 pm on the same evenings as our regular meetings, the second Saturday of the month. These budding rockhounds will be learning all about what it take to become one. At the meetings, they will be working on badge work, helping to design and build their website, geojuniors.com, related crafts and a host of other things to help them become the newest generation of rockhounds.
---
Check out our Calendar of Events for more great rockhound events!