Our next meeting is April 9, 2016
Our speaker for the evening is Dr. Robin Whatley.
** Don't forget to bring your appetite and a dish to pass **
because this is also the night of our Spring Potluck!
Dr. Robin Whatley is an Associate Professor at Columbia College Chicago where she teaches courses in vertebrate paleontology, mammal evolution, and the evolution and extinction of dinosaurs. After receiving a BFA in sculpture from the Kansas City Art Institute, Robin worked in exhibits at The Field Museum where her first field experiences finding Cenozoic fossils in Wyoming ignited her interest in paleontology. Her PhD from the University of California, Santa Barbara focused on the evolutionary history of the Rhynchosauria, a group of herbivorous reptiles restricted to the Triassic, and on remote sensing techniques for fossil reconnaissance. She is a Research Collaborator at the National Museum of Natural History (Smithsonian Institution) where she did a Postdoctoral Fellowship on early mammal paleoecology and distributions. Robin has studied early Mesozoic vertebrate collections in museums across the globe and has participated in field expeditions to the Mesozoic of Madagascar and Zambia. Her research is centered on Late Triassic through Early Jurassic terrestrial vertebrates, most recently in the Petrified Forest National Park, Arizona.
Specimen of the Month
— Vanadinite —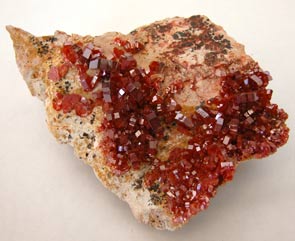 — from the Acif Mine, Mibladen, Morocco —
---
Newsletter Contributions
Our newsletter, The Pick And Dop Stick, is always looking for new submissions. If you have an article you would like to submit to the newsletter, a news item, pictures of one of your rockhound adventures, or another contribution, please send it to Rachele.Best@yahoo.com. We welcome all kinds of contributions!
---
Talk About Digging Things Up!
The club has recently come across old newsletters. We are in the process of digitizing them for posterity's sake. I thought it would be great to post the very first newsletter of our club here for all to see. This newsletter was originally mimeographed (remember the smell of mimeographed pages!) and later zeroxed. With some time and effort, it was scanned in and cleaned up. Click here to see what was going on in the club in October of 1946.
---
CRMS's 2015 MWF Website and Bulletin Award Winners

We would like to congratulate all of these winners on a job well done! We will be getting all of the articles up on our Articles page soon.
Junior Articles Ages 12-17 — 1st Place:
Running on Fossil Fuel — Mei Poy

Original Adult Articles — 3rd Place:
Ice as a Mineral — Antonio Peso

Original Adult Articles — 5th Place:
Haunting Crystals — Rachele L. Best

New Editor — 1st Place:
The Pick and Dop Stick — Rachele L. Best

Best Website — 1st Place:
ChicagoRocks.org — Alice Kozanecki

---
Congratulations to our CRMS Members Who Are
2015 AFMS Bulletin Editors' Contest Winners

We would like to congratulate all of these winners on making it through the finals!
Original Adult Articles — 7th Place:
Ice as a Mineral — Antonio Peso

Junior Articles Ages 12-17 — 2nd Place:
Running on Fossil Fuel — Mei Poy

New Editor — 2nd Place:
The Pick and Dop Stick — Rachele L. Best
---
Geo Juniors are having thier own meetings!

Starting this September, the Geo Juniors are having their own meetings. The kids' meetings are from 6:15 pm to 7:15 pm on the same evenings as our regular meetings, the second Saturday of the month. These budding rockhounds will be learning all about what it take to become one. At the meetings, they will be working on badge work, helping to design and build their website, geojuniors.com, related crafts and a host of other things to help them become the newest generation of rockhounds.
---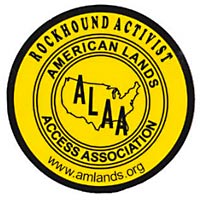 The Latest from the ALAA

The ALAA (American Lands Access Association) is the lobbying arm of the American Federation, working on behalf of rockhounds to keep public lands open and accessible to all, including the elderly and handicapped. Click here to read a few of the hot topics they are working on right now for rockhounds like us. For more information about who they are, a full list of what they are working on on, to become a member, or get involved, visit their website at: http://www.amlands.org/.
Will Rockhounds Still Have Access to Graveyard Point,
McDermitt, Texas Springs, Davis Creek, etc.?
Posted: 2/1/16
The following sentence comes from the ALAA board minutes of October 24: "The sage grouse issue is still with us and that alone could shut down the lion's share of the West." The issue is that sage grouse and their nesting areas have to be protected, and federal regulators are now discussing which activities will be allowed on land that is considered sage grouse habitat (10 million acres). Will they allow camping in these public areas? Hiking? Rockhounding? As of now, rockhounding is NOT considered a recreational activity that will be allowed on these lands. Below are two paragraphs from a long letter that past ALAA President Shirley Leeson wrote to BLM officials in DC:
"Many of the areas that will be impacted are located in SW Idaho, SE Oregon and N Nevada, but also SC Idaho and NE Nevada. They include: Gravepoint Point, Texas Springs, McDermitt and Davis Creek, long-time rockhounding locations known throughout the US and internationally. But they are only the well-known areas, there are hundreds more. What is the economic impact on those small towns close by, and USFS and BLM camping grounds that won't be used any longer, with these areas closed to casual collecting?
"Rockhounding as a recreational activity does not present a negative impact to the management of sage grouse and is allowed under federal law. We request that rockhounding be identified as a recreational activity in the ROD implementation plans, allowing rockhounds and the public to continue collecting rocks and minerals in sage grouse management areas."
http://amlands.org/190534.html has lots more information on this. If you want to write Washington about this, do it soon. If any club members want to read Shirley's letter and the letter I wrote, contact me at tomnoe2@gmail.com.
---
Check out our Calendar of Events for more great rockhound events!