Our next meeting is October 10, 2015
Our speaker at this month's meeting will be Tyrel Rouse. Tyrel Rouse will speak about Canadian amethyst and give a presentation on the associated geology.
"Float" the topic of our November 14th Meeting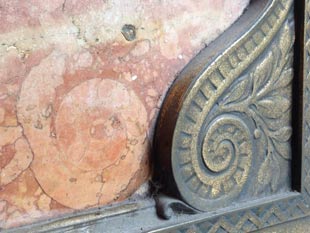 Join us in welcoming our speaker, Asa Kaplan, who will talk about finding fossils in places they don't belong. Some of our members joined Asa on an interesting tour of Chicago called "Fossils in Skyscrapers: Paleontological Walking Tour of the Chicago Loop". In this interactive walking tour members were taken on a fossil hunt in downtown Chicago. The hunt followed along Michigan Avenue finding magnificent fossils embedded in the sides of the very same buildings people shuffle past everyday.
As one member stated, "I'll begin by saying your tour was wonderful. Your enthusiasm and explanations helped many there become comfortable with fossils and exploring. Thank you also for trying to help with our technical connecting!!!"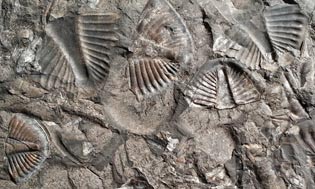 Asa Kaplan is a Logan Square-based naturalist and social entrepreneur focused on gathering community around hyperlocal nature experiences in urban settings. Though more informed by experiences of personal discovery, Asa's formal educational background includes Biology undergraduate (Yale) and Geology graduate work (University of Michigan). Chicagoland works to date include a paleontological building stone tour of the Magnificent Mile, a guest lecture at the popup Rock Shop of the Anthropocene, and Twitter's first live-tweeted phenology almanac, The @Living_Almanac. In October 2015, Asa celebrates National Earth Science week with a trio of neighborhood programs aimed at rediscovering the ancient history inside what we walk by every day.
Specimen of the Month
— Scolecite With Green Apopyllite —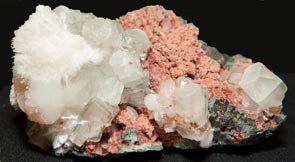 ---
Special "Thanks"
We would like to thank Merrill J. Essex for kicking off our new year with an interesting talk on diamonds. She is a Graduate Gemologist of the Gemological Institute of America (GIA) and told us all about diamonds and their formation, value, types of cuts, history, and also about some of the famous diamonds throughout history and stories on each.
---
Newsletter Contributions
Our newsletter, The Pick And Dop Stick, is always looking for new submissions. If you have an article you would like to submit to the newsletter, a news item, pictures of one of your rockhound adventures, or another contribution, please send it to Rachele.Best@yahoo.com. We welcome all kinds of contributions!
---
Geo Juniors are having thier own meetings!

Starting this September, the Geo Juniors are having their own meetings. The kids' meetings are from 6:30 pm to 7:30 pm on the same evenings as our regular meetings, the second Saturday of the month. These budding rockhounds will be learning all about what it take to become one. At the meetings, they will be working on badge work, helping to design and build their website, geojuniors.com, related crafts and a host of other things to help them become the newest generation of rockhounds.
---
Club Dues Are Due by November 1!
Club dues are $15 per person, per year. The membership year is September 1 through August 31. A spouse or second adult member of the same household will be an additional $5 per year. Children under age 18 are free. Unpaid dues by November 1 forfeits club membership and The Pick and Dop Stick newsletter.
---
Talk About Digging Things Up!
The club has recently come across old newsletters. We are in the process of digitizing them for posterity's sake. I thought it would be great to post the very first newsletter of our club here for all to see. This newsletter was originally mimeographed (remember the smell of mimeographed pages!) and later zeroxed. With some time and effort, it was scanned in and cleaned up. Click here to see what was going on in the club in October of 1946.
Check out our Calendar of Events for more great rockhound events!