Summer is here once again!!
Our next meeting is September 13, 2014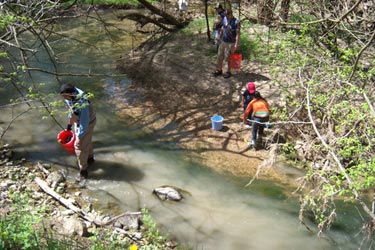 Summer is here and our members are off in every direction to find what interests them. Whether it be rocks, minerals or fossils, I'm sure they are digging up something good. Our next meeting is September 13, 2014. Hope to see you all there! Don't forget to bring any unusual or exciting finds for Show & Tell.
Looking for something to do this summer? Don't forget to visit our Events page to see what shows or other events are going on this summer.
Looking for some place to go summer? Visit our Places to Visit page to find a rockhound destination.
Specimen of the Month
— Apophyllite on Stilbite —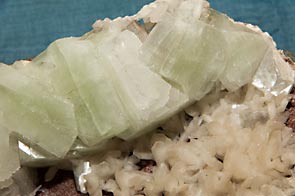 This specimen of apophyllite on stilbite was found in India.
---
We would like to thank Wayne Dawson for his presentation on taking a Quartzsite Field Trip. He also showed off some interesting purchases he made while on his trips to Quartzsite.
---
A special thanks goes out to everyone who helped make our 65th annual Silent Auction the huge success that it was!
---
Talk About Digging Things Up!
The club has recently come across old newsletters. We are in the process of digitizing them for posterity's sake. I thought it would be great to post the very first newsletter of our club here for all to see. This newsletter was originally mimeographed (remember the smell of mimeographed pages!) and later zeroxed. With some time and effort, it was scanned in and cleaned up. Click here to see what was going on in the club in October of 1946.
---
Join us at our meeting June 14, 2014
for our election of officers
This is our last meeting before we break for the summer. Come and cast your vote for next year's board members. We are looking for new people with new ideas to make the club the success that it is. There are still some positions open and available: Vice President, Editor & Publisher, Historian, Silent Auction Chair(s) & Swap Chair(s). If you would like to be considered for one of these positions or run for any of the other positions, contact one of our current board members for more information or email us at info@chicagorocks.org.
Check out our Calendar of Events for more great rockhound events!