Our next meeting is November 8, 2014
---
Robert "Bob" Beadle
1960 — 2014
By Craig Heinze excerpted from the
September 2014 The Pick and Dop Stick.
(Thanks again for the great photos Rod!!)
In the September 2014 newsletter, we had all learned that Robert had passed from complications due to diabetes. During our September meeting, many members reminisced about their memories of him. He was always willing to share his encyclopedic knowledge of rocks and minerals whether it be as a guest speaker, during show and tell or just in conversation. He was chosen as our 2014 Rockhound of the Year and had won 4th place in the AFMS's Bulletin Editor's Contest for Original Adult Advanced Articles this year. The following is Craig's excerpt from The Pick and Dopstick.
You all probably knew him as Bob. For the last 25 years or so, I always called him Robert. He seemed more like a Robert to me than a Bob. Robert lost his life on August 14, 2014. Just 54 years old, complications from Diabetes took him from us way too early. He was valiantly battling back from losing his leg, and was ready to walk right out of the Glenshire Nursing Centre in Richton Park where he had spent the last six months in rehab. We had him focused on a first floor apartment a bit north on Cicero, but that was not meant to be. At least we made it to the big "Bloomington (IN)" show again this June, as that is an annual event not to be missed.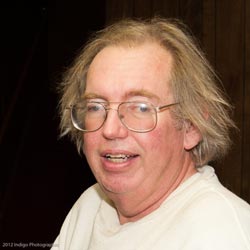 Robert spoke at several club meetings over the years, with fluorites, volcanoes, and fluorescent minerals being a few of his favorite topics. He was also extremely fond of quartz, meteorites, radioactive minerals, and anything stalactitic. He was also quite keen on fossils, and had numerous top shelf Mazon Creek specimens to boast of. Robert single-handedly "made" our club show-and-tell presentations special, month after month after month.
We lost Robert way too early. But in celebration and remembrance of one's life, they can live on in us. As I pumped his hand on his last day on earth, I felt those awfully long and thick nails of his. "For crying out loud," I told him. "Couldn't you at least trim your nails?" I imagined him smiling and not saying anything. He was often a man of few words.
Robert was an organ donor and had no close family, and there was no service or memorial. Bob had a big heart when it counted, and he was a good man. Remember him with affection. He will be missed.
Specimen of the Month
— Druze Quartz —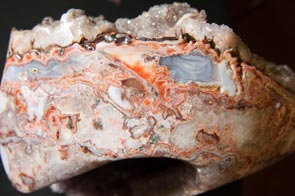 ---
Talk About Digging Things Up!
The club has recently come across old newsletters. We are in the process of digitizing them for posterity's sake. I thought it would be great to post the very first newsletter of our club here for all to see. This newsletter was originally mimeographed (remember the smell of mimeographed pages!) and later zeroxed. With some time and effort, it was scanned in and cleaned up. Click here to see what was going on in the club in October of 1946.
---
Did you miss our May meeting?
Would you like to see the slide presentation again?
Don has graciously allowed us to place a .pdf file of his May presentation on "The Early Animals (Ediacaran) of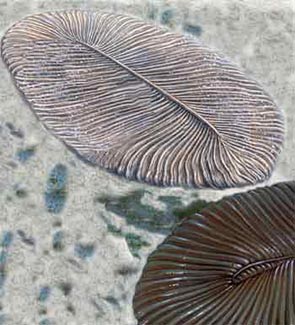 Earth — Nature's Experiments" on our website. Don had introduced us to a variety of Earth's earliest Vendian life forms in this presentation. Click here to see this informative presentation.
---
Special "Thanks"
We would like to thank Dave Rice from the Rock River Valley Gem and Mineral Society for his presentation to the club on Agates in September. He covered the different types of agates and how they were formed. He also passed around specimens and covered how the dyed agates are dyed their different colors.
---
2014 Rockhound of the Year!
This past spring, Robert was chosen as our of Rockhound of the Year for 2014. He devoted his life to the study of rocks, minerals, fossils and anything else geologically that found his muse. He was a guest speaker at many meetings, wrote many articles for the newsletter and almost always had something for show and tell. He was a great asset to the club and will be missed by all.
Pictured left: Robert showing off one of his many specimens during show and tell.
---
And the Results of the 2014
AFMS's Bulletin Editor's Contest are in!!!
Congratulations to all of our members listed below for their award winning contributions! Keep them coming!! Click on the article if you wish to read it or visit our Artlcles page to read these & other award winning articles by our members.
Original Adult Advanced Articles:
4th Place: Color of Florescence, Part I — R. Beadle
10th Place: The Nature of Earth: Origin of the Universe — Antonio Peso

Jr. Article Under 12:
2nd Place: Phosphorescencing Diamond — Smiley Rock

Jr. Article (12-17):
1st Place: Peacock Ore: Prettiest When Tarnished — Cat Eye

Jr. Poetry:
4th Place: Without Rocks — Cat Eye
---
Geo Juniors' Rocked the AH Library
As part of the FRA badge program, the Geo Juniors had set up a display case at the Arlington Heights Memorial Library. Along with promoting the club and the Geo Junior program, they displayed some of the things they have done to earn their badges along with some of their rock and mineral collections. Upon arriving to take it down, I arrived at their display with new eyes. These kids really did a wonderful job putting the case together. The library staff raved at what a great job they had done.
Check out our Calendar of Events for more great rockhound events!