Our next meeting is October 14, 2017
---
Need something epic to do this summer?
See a Total Eclipse of the Sun in Southern Illinois
on Sunday, August 21, 2017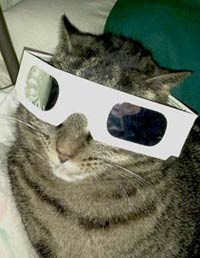 Pictured is Hocus, Rachele's cat, sporting the latest in minimal eyewear to see the eclipse. PLEASE DO NOT VIEW THE ECLIPSE WITH THE NAKED EYE. It can cause blindness.
On August 21, 2017 there will be a total eclipse of the sun right through the middle of the US. AND, our state is in the path. Of course, you'll have to go to southern Illinois to experience it.
The last total eclipse to cross the mainland US was back on 2/26/1979. The only states to see totality were WA, OR, ID, MT, and ND. The next eclipse to cross the US will be on 4/8/2024 which will cut a swath from Texas up through Maine, crossing southern Illinois once again. Illinois is also the state that has the most area of the overlap of the paths of totality for the eclipses of 2017 and 2024! More information on the 2017 and other eclipses can be found here: http://www.eclipse2017.org.
Many of the small towns in Illinois are having their own Solar Eclipse Celebrations, more info can be found here: www.enjoyillinois.com.
Featured Specimen
— Desert Rose —
— Barite Crystal —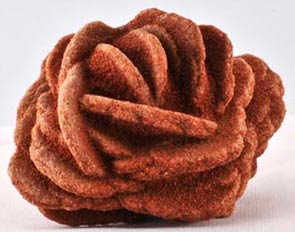 — from Oklahoma —
---
Newsletter Contributions
Our newsletter, The Pick And Dop Stick, is always looking for new submissions. If you have an article you would like to submit to the newsletter, a news item, pictures of one of your rockhound adventures, or another contribution, please send it to Rachele.Best@yahoo.com. We welcome all kinds of contributions!
---
Talk About Digging Things Up!
The club has recently come across old newsletters. We are in the process of digitizing them for posterity's sake. I thought it would be great to post the very first newsletter of our club here for all to see. This newsletter was originally mimeographed (remember the smell of mimeographed pages!) and later zeroxed. With some time and effort, it was scanned in and cleaned up. Click here to see what was going on in the club in October of 1946.
---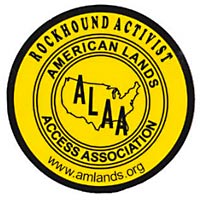 The Latest from the ALAA

The ALAA (American Lands Access Association) is the lobbying arm of the American Federation, working on behalf of rockhounds to keep public lands open and accessible to all, including the elderly and handicapped. Click here to read a few of the hot topics they are working on right now for rockhounds like us. For more information about who they are, a full list of what they are working on on, to become a member, or get involved, visit their website at: http://www.amlands.org/.
Senior Pass Price Skyrocketing

On Tuesday December 6, 2016, in the lame duck session of Congress, the House passed by unanimous consent a bill (HR 4680) that will eliminate the $10 lifetime Senior Pass (formerly Golden Age Pass) which has been available to citizens and permanent residents age 62 and older since 1965.
In the early hours of Saturday morning December 10, in a nearly empty Senate chamber - most members having already left for the holidays - the Senate approved the House bill by unanimous consent. It was signed by President Obama before he left office.
The lifetime pass will track with the price of the annual America the Beautiful Pass. That price is currently $80 but can be changed at any time by the federal land management agencies, without further legislation.
For those who prefer an installment plan, a new "Senior Annual" pass will also be established at a price of $20, good for one year from the date of purchase. Four consecutive Senior Annual passes can be exchanged for a lifetime pass.
While there have been a multitude of bills introduced (and programs authorized) aimed at giving new groups free or reduced-cost access to the public lands - 4th Graders, military families, those with disabilities, veterans, volunteers - it is difficult to understand why Congress has taken this opportunity to reduce a long-standing benefit to seniors. The $20-$35 million in anticipated additional revenue (depending on whose estimate you choose) will make little dent in the Park Service's claimed maintenance backlog of $12 BILLION.
All of this was done in the guise of celebrating the centennial of the National Park Service, although why making the Parks more expensive to visit constitutes a "celebration" remains a mystery.
BENEFITS
The benefits of the Senior Pass include entrance to all National Parks and Wildlife Refuges that charge entrance fees, for the passholder and everyone accompanying them in the same vehicle. Where an NPS unit or a Refuge charges a per-person fee, the passholder can bring in three companions age 16 or older. (Those under age 16 are free anyway.) The Senior Pass also covers Standard Amenity Fees at most Forest Service, BLM, Bureau of Reclamation, and Army Corps of Engineers sites. In addition, Senior passholders are entitled to a 50% discount on campground fees for the site they occupy, including any younger friends and family members who accompany them.
These benefits are grandfathered- (and grandmothered-) in for existing passholders. So if you have attained the age of 62 and have not yet purchased your lifetime Senior Pass, you should do it IMMEDIATELY. Passes are sold at National Parks, Forest Service, BLM and Bureau of Reclamation offices, National Wildlife Refuges, and Army Corps of Engineers recreation sites. Passes can be purchased online at the USGS Store, but online purchases will incur a $10 service charge in addition to the (for now) $10 price of the pass. Your pass is good for the rest of your life unless lost or stolen. Many people buy an extra to keep in a safe place. Doing so at this time is something to consider because buying a replacement in the future could cost you much more.
ACT QUICKLY!
The price increase is going to take effect on August 28, 2017. That's well ahead of the previously announced effective date of October 1. So if you are going to attain age 62 before August 28, don't wait - it will cost you eight times more after that date!
---
Did you miss our February meeting?

At our February meeting, our very own geologist, Ben Chorn, talked to us about Montana Agates. If you missed the meeting, like so many others who decided the warmth of Arizona and the Tucson Show were calling, you are in luck! Ben taped his presentation just for you. See it here or on YouTube. He has also inspired me to add a new page to the website under "References" called "Video Presentations". Get the popcorn ready & enjoy the show!!
---
Geo Juniors are having thier own meetings!

Starting this September, the Geo Juniors are having their own meetings. The kids' meetings are from 6:15 pm to 7:15 pm on the same evenings as our regular meetings, the second Saturday of the month. These budding rockhounds will be learning all about what it take to become one. At the meetings, they will be working on badge work, helping to design and build their website, geojuniors.com, related crafts and a host of other things to help them become the newest generation of rockhounds.
---
Check out our Calendar of Events for more great rockhound events!