Remarkable Creatures by Tracy Chevalier
A Book Review, by Betty Novak
From: The Pick and Dop Stick, 10/2010
4th Place — 2011 MWF Features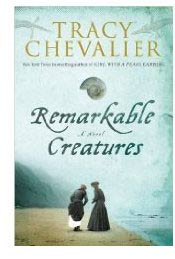 Remarkable Creatures is the fictionalized story of the unlikely friendship of two English women in the early 1800s. Mary Anning was the daughter of a cabinet maker who taught her to collect "curies" along the shore to sell to tourists in order to supplement the family income. Mary outdid the rest of her family at finding fossils. She is described as "having the fossil hunters' tendency always to be looking for something, even when in the street or in a house where there is no possibility of finding anything of interest." Among the "curies" she finds are snakestones (ammonites), sea lilies (crinoids), vertebrae, bezoars (coprolites), thunderbolts (belemnites), and devil's toenails (gryphaea - bivalves). Elizabeth Philpot was one of three middle class spinster sisters who moved to Lyme Regis in 1805. Where the river Lyme poured into the sea, she searched for fossil fish as a way to pass time, eventually turning a hobby into a serious study. Mary saw fossils as a source of income. Elizabeth had the time to study fossils and learn about them. Mary taught Elizabeth how to properly clean fossils, while Elizabeth taught her how to keep proper records of where the fossils were found, what type they were, etc.
Mary found some of the earliest examples of plesiosaurs and ichthyosaurs which people thought were types of crocodiles. Her early finds were claimed by male scientists of the era. Many fossils had been incorrectly assembled until Mary discovered the first complete in situ pterodactyl and squaloraja (a transition between a ray and a shark) in Great Britain. Elizabeth fought with the scientific establishment to get Mary recognized as the truly knowledgeable person she was. Mary and Elizabeth had to contend with both the existing male attitude towards women as well as the scientists' attitude towards the hobbyists.
Mary Anning has finally gotten her due. Her fossils are on display at natural history museums in London and Paris. Elizabeth's fish fossils are at the Oxford University Museum of Natural History. Elizabeth's nephew established the Philpot Museum in Lyme Regis. It is located of the site of Mary's house in Cockmoile square. One of the exhibits is the rock hammer made of wooden points covered with metal that Mary's father made for her.
Remarkable Creatures is a well-written book, drawing out the personalities of people of the 1800s, as well as being true to the science background. We often think of the fossils but not always of the discoverers. We should do both. This book also contains an excellent bibliography for future reading.
For permission to reprint this book review, contact us at info@chicagorocks.org.