Meetings & Location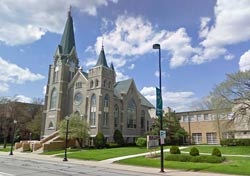 Meetings are at 7:30 p.m. on the second Saturday
of the month (except July and August) at:

St. Peter's United Church of Christ
8013 Laramie Ave.
Skokie, IL 60077
(At Laramie and Oakton -
across from the Skokie Public Library)
Visitors are welcome to come out and see what our club is all about! Additional events and programs are announced in the monthly meetings and in the Pick and Dop Stick, our nationally-recognized award winning monthly newsletter (only available with membership).
Member dues are currently $15 per person per year (from 9/1 to 8/31). A second adult member from the same household is an additional $5; children under 15 are free. Please contact the Treasurer for membership dues payment. More membership information may be found on the Membership page.
If you would like more information about our club, please contact us at info@chicagorocks.org or call Jeanine Mielecki at 312-623-1554.